"Health is Wealth", this is a very common phrase that we always hear which is related to getting fit and exercise. In recent decades, advancements in technology and exercise regiments have increased the life expectancy and general health of people around the world. However, problems are still encountered in getting healthy based on activities, cost and wealth still exist. The question here is…" How can we connect Cryptocurrency and Exercise?". That's what we will try to find out.
Nowadays, a lot of Health, Fitness, and Wellness apps have been released. This is due to the boom and development of smartphone apps. The competition between Android and IOS based apps have created a big Industry around the world. While the crypto community has brought a lot of headlines in mainstream media, it also provided a lot of opportunities for different platforms to be created using the blockchain technology. The blockchain technology has already been integrated into different industries mostly, supply chains and data.
What is FRY EGG?
Fry Egg is a platform which provides health, fitness and wellness programs to the individual at all levels and provides guidance using the necessary tools to attain their health goals. It is a one-stop shop for clients who are seeking personalized or customized fitness training and regiments which focuses solely on delivering the best fitness program. It takes advantage of using a smartphone app to provide these services. Fry EGG has both the Android and IOS releases of the app which covers a great market. The FRY EGG ecosystem will use EGG tokens as its currency for all payments, rewards, and promotions.
Fry egg will use two versions of the EGG token. One is ERC-20 which can be traded and these are the tokens received during the token sale. The other is the platform based which means this can be used within the Fry Egg ecosystem.
What are the advantages of FRY EGG for Coaches?
Allows Coaches to supplement or replace their current income. This will be a great way for coaches to have another source of income. Instead of just working in the gym, they can be remote coaches and can do coaching everywhere around the work without worrying about not getting paid.
Possibility to expand client base beyond the personal circle. This is one way to get more clients and increase the fan-base of the coaches. The platform doesn't just focus on providing fitness programs but also a tool for advertising the coaches.
Coaches do not have to incur the costs of owning a business. This is another great benefit of FRY EGG. The coaches don't need to spend a lot to register their business. They are able to avoid charges for putting up a business.
Currently, many fitness professionals, such as personal trainers, make 30-50% commission at their gym. With Fry Egg, they make up to 92% commission. This 92% is the best deal a personal trainer or coach could get. The commission is where these coaches make their living and they mostly do the work so they should be the one rewarded.
Coaches have the ability to work from anyplace at any time – work flexibility. Flexibility is the key to all products and services. For coaches,being able to work anywhere anytime would me bringing in more income.
Fry Egg is an ideal starting place for fitness pros who wish to set on a path towards becoming an industry icon. For people who are still starting their career as a personal coach or trainer, this is the best market for them. They can take advantage of all services and perks offered by Fry Egg.
What are the advantages of FRY EGG for Clients?
Personalized and customized trainer and fitness program. Fry Egg provides all that services in one convenient and reliable app. They can choose from the best coaches and tailor fit their training regiments to what they need.
Safe and Secure Online Environment. Clients don't need to worry about security and privacy. Fry Egg uses the blockchain technology for this purpose. All of their information is securely kept.
Fitness Program Cost. For any product or services, people always look at the cost. If you compare the price offered for fitness programs in the Fry Egg ecosystem, there is definitely a big price difference. Fry Egg offers lower pricing, 20-50% lower than traditional fitness program costs available today.
Why purchase EGG tokens?
In investing in product and service, you need to do your homework and research more before investing. Let's check if Frg Egg fits the bill for a good investment.
CRITERIA TO CONSIDER:
1.It must be a unique project.
This is a unique project. It will revolutionize the fitness and well Industry. This brings in the combination of fitness training app and blockchain technology. The possibilities are limitless for this platform.
2.The team that comprises the company must have at least 5 well known reputable members.
Checking on the website, you will see there the best and most reliable team which is very knowledgeable about the platform and their ecosystem.They have a complete detailed Whitepaper.
3.They have a complete detailed Whitepaper.
They have all details listed in their whitepaper.
4.A precise and clear Roadmap.
Their road map is well defined.
5.Offers 50% bonus on early ICO investors.
They offer Diamond EGG 50% Discount (Private Sale Only) Gold EGG 25% Discount (May 1st – May 15th) Silver EGG 10% Discount (June 1st – June 15th)
6.The existence of a cap in raising funds.
Hardcap – $20,000,000
7.Transparent breakdown of budget and distribution of funds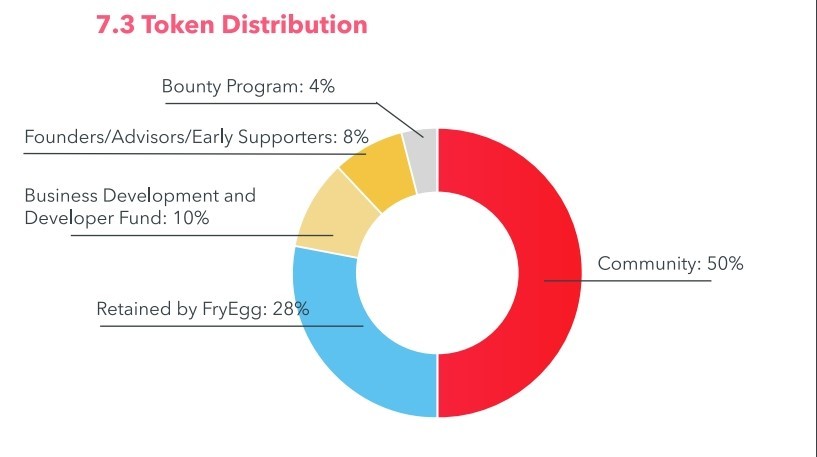 8. FryEGG has a Clean Image – no red flags on any forums online.
No negative review or news so far.
9.They have a healthy public relationship online or is part of various online communities such as Twitter, Facebook, Slack, Reddit, Telegram and the like.
No negative review or news so far.
10.CONCLUSION:  Is the Project worth investing?
FRY EGG has what it takes to be at the top the crypto food chain. This project is worth investing due to the positive things it brings. It doesn't just coach/personal trainers but clients as well. Advertising and community building is also a good ploy to get more users of the apps so this project can definitely take advantage of this. For investors, it's not always about getting the RIO but believing that this project or platform would help in the advancement of any industry and cryptocurrency application in our daily lives.